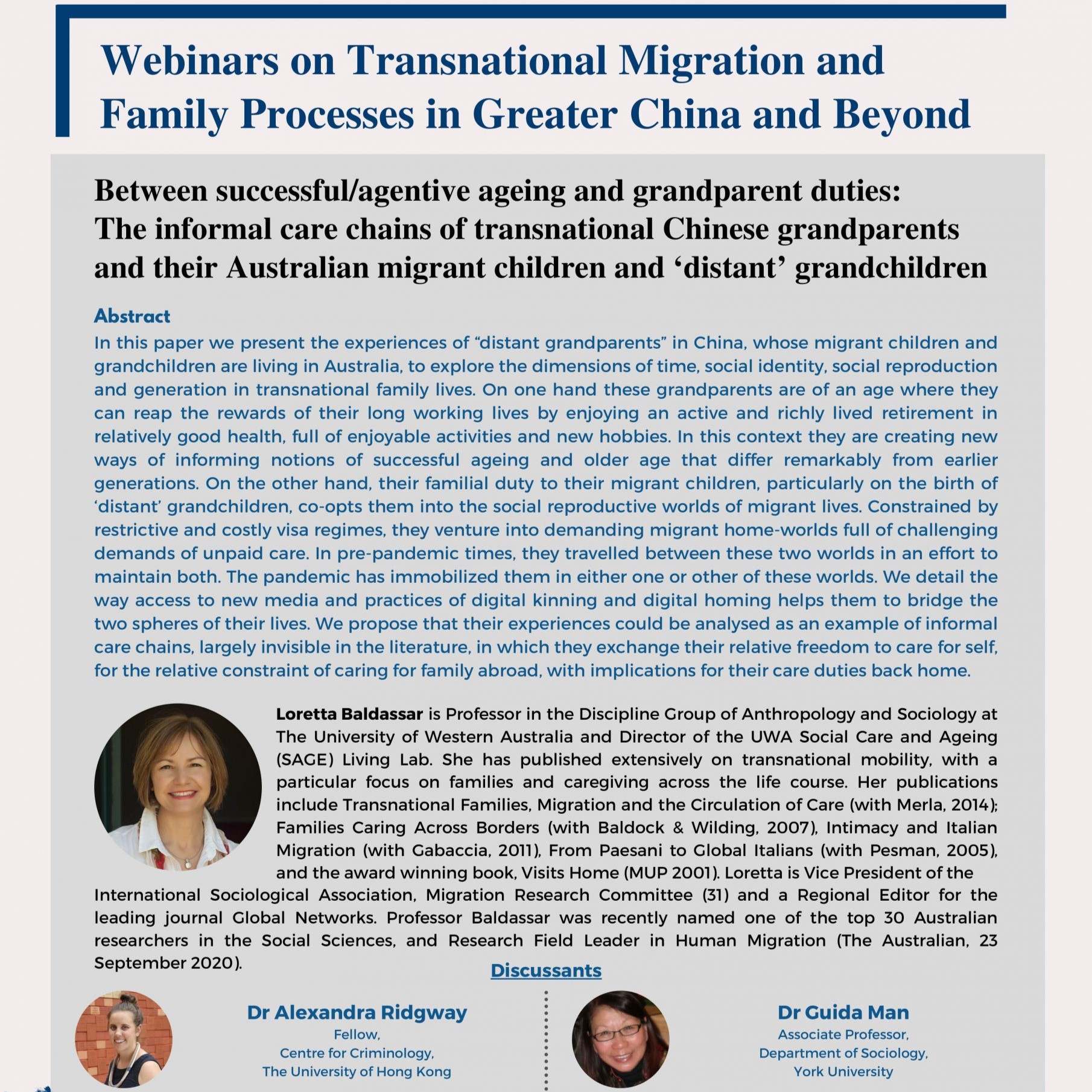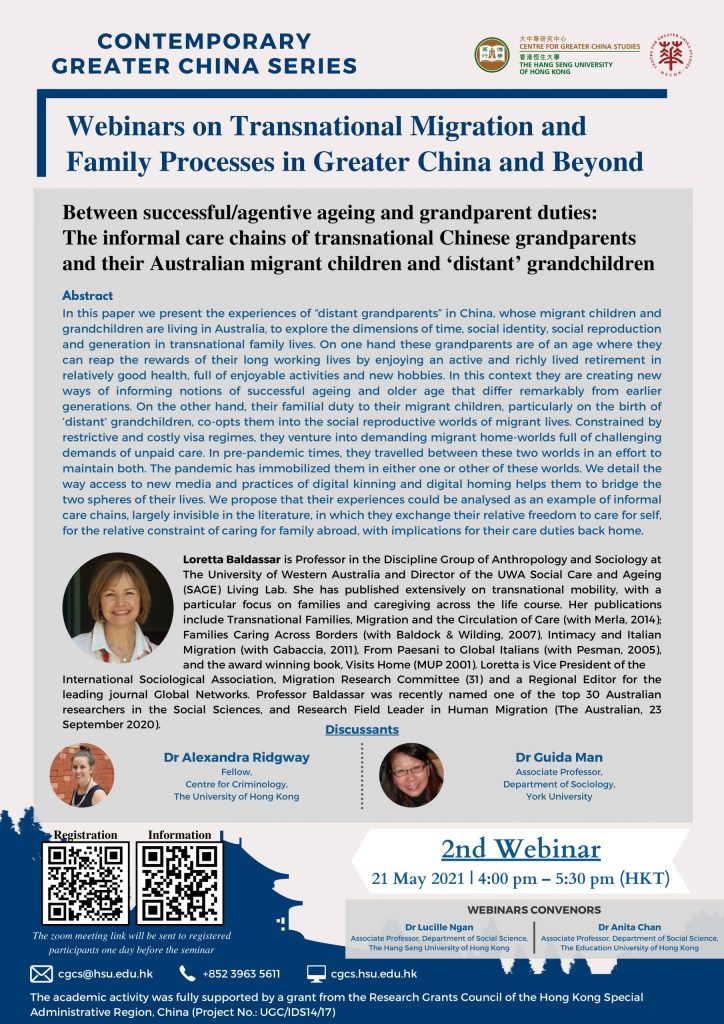 The Centre for Greater China Studies (CGCS) would like to invite you to join a research seminar fully supported by a grant from the Research Grants Council of the Hong Kong Special Administrative Region, China (Project No.:UGC/IDS14/17):
2nd webinar (21 May 2021, 4:00 pm – 5:30 pm Hong Kong and Perth time (UTC+8)
Topic: Between successful/agentive ageing and grandparent duties: The informal care chains of transnational Chinese grandparents and their Australian migrant children and 'distant' grandchildren
Speakers: Professor Loretta Baldassar (Professor in Anthropology and Sociology, University of Western Australia)
Discussants: Dr Alexandra Ridgway (Centre for Criminology, The University of Hong Kong) and Dr Guida Man (Department of Sociology, York University)
Registration: https://forms.gle/7GHseGa5mWmF3BQBA
Website: https://migration.hsu.edu.hk/
*The zoom meeting link will be sent to registered participants one day before the seminar
Co-Convenors:
Dr Lucille Ngan (Associate Professor, Department of Social Science, The Hang Seng University of Hong Kong)
Dr Antia Chan (Associate Professor, Department of Social Science, The Education University of Hong Kong)
Abstract
In this paper we present the experiences of "distant grandparents" in China, whose migrant children and grandchildren are living in Australia, to explore the dimensions of time, social identity, social reproduction and generation in transnational family lives. On one hand these grandparents are of an age where they can reap the rewards of their long working lives by enjoying an active and richly lived retirement in relatively good health, full of enjoyable activities and new hobbies. In this context they are creating new ways of informing notions of successful ageing and older age that differ remarkably from earlier generations. On the other hand, their familial duty to their migrant children, particularly on the birth of 'distant' grandchildren, co-opts them into the social reproductive worlds of migrant lives. Constrained by restrictive and costly visa regimes, they venture into demanding migrant home-worlds full of challenging demands of unpaid care. In pre-pandemic times, they travelled between these two worlds in an effort to maintain both. The pandemic has immobilized them in either one or other of these worlds. We detail the way access to new media and practices of digital kinning and digital homing helps them to bridge the two spheres of their lives. We propose that their experiences could be analysed as an example of informal care chains, largely invisible in the literature, in which they exchange their relative freedom to care for self, for the relative constraint of caring for family abroad, with implications for their care duties back home.
About the speaker
Loretta Baldassar is Professor in the Discipline Group of Anthropology and Sociology at The University of Western Australia and Director of the UWA Social Care and Ageing (SAGE) Living Lab. She has published extensively on transnational mobility, with a particular focus on families and caregiving across the life course. Her publications include Transnational Families, Migration and the Circulation of Care (with Merla, 2014); Families Caring Across Borders (with Baldock & Wilding, 2007), Intimacy and Italian Migration (with Gabaccia, 2011), From Paesani to Global Italians (with Pesman, 2005), and the award winning book, Visits Home (MUP 2001). Loretta is Vice President of the International Sociological Association, Migration Research Committee (31) and a Regional Editor for the leading journal Global Networks. Professor Baldassar was recently named one of the top 30 Australian researchers in the Social Sciences, and Research Field Leader in Human Migration (The Australian, 23 September 2020).
For enquiries, please feel free to contact us at cgcs@hsu.edu.hk or 3963 5611.